In the large area of the present city of Beirut, archaeological sites are numerous but scattered because of the contemporary houses, permanently renewed, which does not allow a full search. Archaeologists have nevertheless demonstrated a history dating back at least 5000 years before our era.
With a monumental gate, a fortification from the early 2nd millennium BC was discovered between 1993 and 1995 by a team of AUB Museum archaeological team. Other walls were dated thirteenth century B.C. They seem to have been operational until the Roman period. A Phoenician port was located.
The latest excavations have revealed the ancient Phoenician city and the Roman city: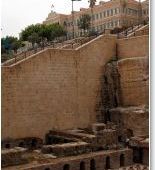 Josette Elayi, L'antique Beyrouth à la lumière des dernières fouilles archéologiques - Clio - Voyage Culturel
L'antique Beyrouth à la lumière des dernières fouilles archéologiques Chargée de recherche au CNRS Lorsque l'archéologue libanais Roger Saïdah écrivait en 1969, à propos des fouilles effec...
http://www.clio.fr/BIBLIOTHEQUE/l_antique_beyrouth_a_la_lumiere_des_dernieres_fouilles_archeologiques.asp
Excavations at Beyrouth
The city is mentioned under the name of Biruta in the texts of Ebla, Ugarit and in the Amarna letters. On the pylons of Karnak, the city appears among the enemies of the Battle of Megiddo under the name of "Baarut". The phonetic proximity with the present name leaves little doubt about this ancient city.
At Amarna, three letters to the pharaoh were written by the strongman of the city (EA141, EA142, EA143) Ammunira. The latter, by welcoming within its walls the King of Byblos, and responding positively to requests to supply the army of Pharaoh, appears alongside the mighty of Egypt. But it should be noted the uniqueness of Beirut in Canaan, especially compared to Byblos, Sidon and Tyre : the city had no king at its head, while its importance is certain.
For French language, click here.
My notes of veracity :
Beirut was called Biruta during the Bronze Age: 4/5