A long passage of Ashurnasirpal II annals evokes warlike operations in the country of Dirra. This country is clearly situated north of the Tiger as the Assyrian king claims to have started from Tuska and having crossed the Tigris to reach Pitura and Kukunu of the country of Dirra. This is the left bank of the Tigris at the elbow of Diyarbakir.
The country of Dirra is probably designated Terais in the texts of Urartu and Turira in those of the Hittites. A letter written by a Hittite king to Adad-nirari of Ashur (Kbo I 14) was found in the archives of Hattusa about the city of Turira that appears on the border between three empires, Mitanni (Hanigalbat), the Hatti and Assyria: "The people of Turira continue to plunder my country. On one hand they constantly plunder Carchemish, on another hand they constantly plunder the country of Astata. The king of the country of Hanigalbat keeps telling me that the country of Turira is his. [...] If Turira is not yours, writes to me that I beat this town.". The words of the Hittite king are confirmed by a tablet found on the Tell Meskene: a king of Hurrian warriors installed in Turira has led an attack against Emar.
Kbo XIII 65 is a letter from a king of Hanigalbat installed in Simane (Bit-Zamani) that asks to the Hittite king, "What mistake have I committed against my father? Against Halpaziti king of Halab? And against Ehli-Sarruma king of Isuwa? ".
Pir Huseyin probably seems to be Turira / Dirra. On this ancient village, located 25 km northeast of Diyarbakir, a stele of Naram Sin had been exhumed. This shows that it is a tell of the beginning of the bronze age. This is probably he who gave his name to the region.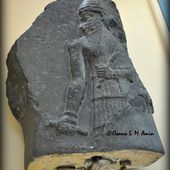 Stele of of the Akkadian king Naram Sin, from Pir Huseyin, Diyarbakir, Turkey.
A close-up view of the stele of the Akkadian king Naram Sin. According to the inscription on the diorite piece of stele, it belongs to King Naram-Sin. It was found in Pir Hüseyin, a village near ...
https://www.flickr.com/photos/shamash_of_mesopotamia/20552658936
Stele of Naram Sin
A project about 108 sites of this area is in progress:
For French language, click here.
My notes of veracity :
The neo-assyrian Dirra, the Tarira hittite, was Pir Huseyin : 2,5/5