Kuşaklı is located in Anatolia, about 60 km south of Sivas. It is excavated since 1992 by a German archaeological team led by Andreas Müller-Karpe.
A wall with several watchtowers, demarcated an area of 18 hectares. It was pierced with four doors, one of which was that of Syria-Palestine.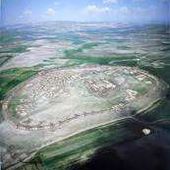 Sivas, Altınyayla, Kuşaklı, Sarissa antik kenti - Gezi yazısı planı rehberi örneği turları butik oteller
Tarihin derinliklerinde, Hitit'lerin önemli şehirlerinden birinin kalıntılarını görmek isterseniz, işte Sarissa. Tarihin en büyük dördüncü imparatorluğunu kuran Hitit ulusunun, en bü...
http://www.gezi-yorum.net/sivas-altinyayla-kusakli-sarissa-antik-kenti/
Turkish site of Sarissa / Kuşaklı
45 fragments of tablets were found there. These are descriptions of religious festivals and divination rituals. Two of them describe a spring festival celebrated by the king in Sarissa. It is these writings that helped to say that the site of Kuşaklı was the city of Sarissa, sometimes called "Serissa".
However, some researchers consider that it is the town of Zippalanda.
The mention of names of people same as those of the Hattusa tablets, Tapikka and Sapinuwa - including a dignitary name Hattusili of Hattusa - allowed us to dated those tablets during Thutaliya III. The city of Sarissa seems to have been destroyed by the Gasgas few years later.
The town is probably mentioned in Ebla archives under the name "Šerše", as well as in those of Ugarit under the name "Šurašša", in those of Urartu as "Surisidas".
Finally, this is probably the city of Seresse of the annals deTiglath-Pileser I, around the 11th century BC, who, after fighting in the country of Kummuh, has lashed refugees: "Part of the population Kummuh of which had fled before my troops, had gone to Seresse, on the other side of the Tigris. They chose this city for its mighty walls. I gathered my chariots and my warriors. I crossed the mountains through difficult passages. I builded a road for the passage of my chariots and my troops. I crossed the Tigris and conquered Seresse their stronghold."
Perhaps, there was confusion between the Tigris and the Euphrates in the latter text.


My notes of veracity :
Kuşaklı is the site of the city of Sarissa : 3/5