During the 9th century BC, Shalmaneser III has conducted an expedition to the land of Urartu and destroyed Arzashku, the royal city of Arramu. This is what is written on a stele found at Kurkh, south eastern Turkey:
Overall, Shalmaneser went to the north west of Nineveh, he crossed the Tigris to the Euphrates and reach the land of Isuwa. He crossed the river that was Arsania upstream of the current Euphrates. To reach Arzashku he had to cross the countries of Suhme and Daiaeni. After destroying Arzashku he erected a statue on Mount Eritia probably present Ararat mountain, and then headed towards the city of Aramale, near Lake Urmia, to which ranged cities of Gilzanu, Shilaia and the country of Hubushkia.
Here is what was written by Gaston Maspero in "History of Egypt, Chadea, Syria, Babylonia and Assyria": « Arzashkun seems to be the form of an Assyrian Urartu name ending with "Ka" Arzash recalls the name "Arsene" or "Arsissa" corresponding to a former name of part of Lake Van. »
The present city of Erciş (Arjesh in Armenian) claims to have this old name: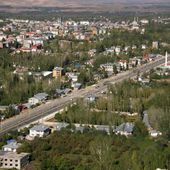 Erciş (Ancient Arjesh) - Wikimapia
Arjesh (arm. Արճեշ) or Erjish (tur. Erciş) - is a town at northern shores of lake Van in Historic Armenia but now belonging to Turkey. The town has a population of 81,212, mostly turkish peop...
Ancient Arjiesh
For French language, click here.
My notes of veracity :
Arzashku, royal city around the lake Van, was the present town of Erciş: 2.5 / 5