Years 1984 and 1986, excavations at Girnavaz, Turkey near the Syrian border, 5 kilometers north of Qamishli, have identified several neo-Assyrian tablets showing that the place was called Nawila, Nawala, or Nawalu Nabula.
Neo-assyrian tablets of Girnavaz
The tablets were dated to the 7th century BCE. But the city of Nabula was first mentioned during the 13th century BC: Adad Nirari 1er conquered this city at the beginning of the formation of the New Assyrian Empire, by locating it, among others, in the Kashiari region.
Excavations have shown a continuous occupation from 4000 to 700 BC. They found from the Neolithic objects and masks of the Roman period.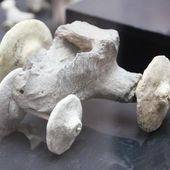 Source - http://www.examiner.com/article/archaeologists-discover-ancient-theater-masks-turkey A Stone Age toy car - Photo credit: the Museum of Mardin in Ilisu Dam The chance finding of a Stone Age
http://www.archeolog-home.com/pages/content/girnavaz-turquie-archaeologists-discover-ancient-theater-masks.html
Stone age toy and theater masks of Girnavaz
In IV42 of Mari at the beginning of the second millennium BC, pears appear to be produced in this city.
It was a religious place mentioned in the treaties in the form of Adad of Nawali or Tessup of Nawali.
For French language, click here.
My notes of veracity :
During the Bronze Age and the Iron Age, the site of Girnavaz was the city Nawila, Nawali or Nabula: 3/5