The Tell Hariri is located in a plain in the extreme southeast of the country of Syria on the Middle Euphrates. His excavations were undertaken by the French André Parrot, from 1933, and taken over by Jean-Claude Margueron in 1979. After 40 campaigns, about one fifteenth of the site was excavated.
Those conducted since 2005 under the direction of Pascal Butterlin, resulted in establishing stratigraphic sequences that illustrate the most important moments of the city between 2550 and 2300 BC, then between 2200 and 1761 BC. The loldest levels achieved are between 2900 and 2550 BC. The city was founded around the fifth millennium BC.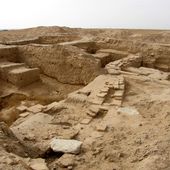 Canalisations en brique cuite au milieu des vestiges de brique crue qui ont fondu depuis les fouilles Les prospections effectuées le long de l'Euphrate et de son affluent le Khabur ont révélé ...
Pictures of Tell Hariri
The texts of Ebla mention the city of Mari during the twenty-fourth century BCE. The rulers of Ebla are then under the thumb of those Mari: This shows the importance of this city from the 3rd millennium BC.
Mari, capitale sur l'Euphrate Directeur d'études à l'EPHE (IVe section) Directeur des fouilles de Mari de 1979 à 2004 Directeur d'études à l'École pratique des hautes études (IVe section) ...
http://www.clio.fr/BIBLIOTHEQUE/mari_capitale_sur_leuphrate.asp
Article of Jean-Claude Margueron
But the most important are the 25,000 cuneiform tablets, dated to the early second millennium BC, which were extracted from the ruins of the city. Their translation has helped to identify around 400 names of towns. They constitute a major basis of this blog.
These tablets provide a good knowledge of the operations of the main Amorites rulers of Upper Mesopotamia, over a period of a few decades before its destruction. According to experts, the most sensitive letters were reportedly taken by its predator, the king of Babylon, Hammurabi, before the destruction of the city.
The texts reveal some instability as to territory around Mari, and all the neighboring city-states. At that time, the warlike operations were aimed the enlargement of countries through the submission of new cities. Some could be completely looted and razed, occupants reduced to slaves. And it is probably this end that was reserved for Mari.
For French language, click here.
My notes of veracity :
The tell Hariri site was the city designated "Mari" in Akkadian: 5/5