Amedi is mentioned in the annals of Ashurnasirpal II,during the 9th century BC. It is designated "royal city". The translations give different interpretations that diverge about the membership to Bit-Zamani ; we do not know if Amedi is a royal town of Bit-Zamani or a royal city of Assyria. However, it is largely accepted that Amedi, not far from the land of Urartu, was the capital of Bit-Zamani and that Zamani was his city name during the Bronze Age.
The first mention of Bit-Zamani comes from Tell Billa, during the 13th century BC.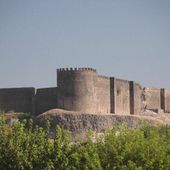 Amida: town on the Upper Tigris, modern Diyarbakır. Situated on a high platform commanding a crossing of the river, Amida is one of the strategically most important places in the Upper Tigris ...
Diyarbakir along the Tigris
There is no doubt that Diyarbakır was called Amida under the Roman Empire. The remains of the city are there to remind. Moreover, the Kurds still call this city "Amed". It was the place of a war in the 4th century AD: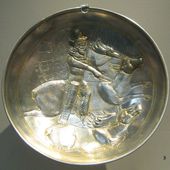 L'autre côté de la colline: Le siège d'Amida (359 ap. J.-C.)
Le siège d'Amida, en 359 ap. J.-C., oppose l'Empire romain à l'Empire perse des Sassanides. Il a cette particularité d'avoir été décrit par un témoin direct, un ancien officier romain qui a ...
http://lautrecotedelacolline.blogspot.fr/2013/11/le-siege-damida-359-ap-j-c.html
Headquarters of Amida, 359 AC