In the annals of the 8th campaign, Sargon evokes the city of Uaiais. It first called Uaiais-the-old from a list of 30 cities of the country of Aiadi along an undulating sea where Anzalia appears first and Uaiais the old the last.
The researchers have positioned differently those cities considering that the sea in question is the Caspian Sea, or considering it is the Lake Urmia. Just before, the evocation of the country of Armariali, which is probably the region of the city of Urmia and the mention of Anzalia, the Tepe Hasanlu, makes me lean towards the second hypothesis.
Uaiais is described as the border between the country of Urartu and the country of Nairi.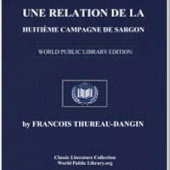 Une relation de la huitième campagne de Sargon (714 av. J.-C.) texte Assyrien inédit, publié et traduit | World Public Library - eBooks | Read eBooks online
Une relation de la huitième campagne de Sargon (714 av. J.-C.) texte Assyrien inédit, publié et traduit by Thureau-Dangin, F. (François). Supplemental catalog subcollection information: Canadia...
http://worldlibrary.org/wplbn0002699476-une-relation-de-la-huiti-me-campagne-de-sargon-714-av-j-c--texte-assyrien-in-dit-publi-et-by-thureau-dangin-f--fran-ois-.aspx
8th campaign of Sargon, by F. Thureau-Dangin
To join the fortress of Uaiais Sargon II crosses three rivers. After reaching Uaiais the old, his army has approached of four miles of Hubushkia, probably located in the mountains east of Lake Urmia.
Some years after the exploits of Sargon II, during the Cimmerian invasions, it is probably the same region, called Uazaun, Uasi or Uesi, which is mentioned in letters of Sennacherib as a place of residence of the king of Urartu, near the country of the Mannaeans and Musasir.
In the texts of Urartu, the city is written "Zuais" or "Zuas".
During the begining of the second millenium BC, I consider that it is the country spelled "Ahazum" in the archives of Mari and tell Shemsharah. The tablet I 69 + of Samsi-Addu to his son Yasmah-Addu is quite precise: "When armies were gathered at Qabra I send Isme Dagan with them to the country of Ahazum [...] The country of Ahazum heard the gathering of the armies in Qabra : the troops of all countries and the Turukkéens who are with them have gathered on their side. They took position against Isme Dagan in the land of Ahazum, country of Ikkallum. [...] Your brother won the battle. "
In this text Ikkallum is probably the town of Kawalhum which became a neo-Assyrian capital "Kalhu".
It is undoubtedly this country of Ahazum which was called "Hayaza" by the Hittites.
For an explanation on the colors of text, click here.
For French language, click here.
My notes of veracity :
Yazum was the Neo-Assyrian Uzun, Uaiais or Uasi: 2.5 / 5
The Neo-Assyrian Uaiais or Uasi was the urartean Zuais or Zuas : 4/5
Ahazum was the country called Hayaza by the Hittites: 2.5 / 5