In the archives of Mari, Tilla seems to be close to Ilan-Sura because Haya-Sumu king of the region, and his wife, Kiru, evoke this city as having been taken by force, with Kahat, and integrated to the territory of this country of Idamaras.
1000 years later, the annals of Ashurnasirpal II first evoke a city called Tila or Tela in the country of Habhu, then in the country of Nirbu, then a few years later, a town called Tiluli fairly well positioned in the country Kadmuhu : "I have mobilized my troops and my chariots. Having crossed the Tigris and penetrated the country of Kadmuhu. I devoted a palace in the city of Tiluli. I received the tribute of the country Kadmuhu." However, there are two interpretations of this text according to the starting location of troops :
1st hypothesis: Assur. In this case the crossing of the Tigris took place from west to east and the country of Kadmuhu is then positioned to the east of the Tigris to the Silopi Valley.

2nd hypothesis: Kalhu. In this case the crossing of the Tigris was carried out from east to west and the country Kadmuhu is then positioned to the west of the Tigris, between the Tigris and Euphrates.
Tiglath-Pileser I, who also evokes fighting in the country of Kadmuhi in the mountain region of Kashiari, seems to give some weigth to the latter interpretation. But it is also possible that Kadmuhu was a country located on both sides of the Tiger according to the periode of time.
Other Neo-Assyrian texts confirms that Tiluli and Shahuppa were the two most important cities of the country of Kadmuhu. The latter country is mentioned on some tablets found on the tell Billa.
Tilla is positioned by some researchers to tell al-Hawa, others put it on the Tell Rumailan.
There is also a Tille Höyük along the Euphrates.
But the best candidate is the present Viranshehir, Turkey: historians consider that around AD 500 this city was called Tella of Mawzlat in Syriac and Constantine of Osroene under the Late Roman Empire. It was the birthplace of a religious known as John of Tella.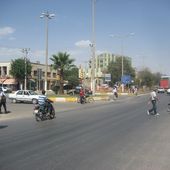 Viranşehir - Alchetron, The Free Social Encyclopedia
Viranehir Kurdish Wranar is a market town serving a cottongrowing area of anlurfa Province in southeastern Turkey 93km east of anlurfa city and
Viranşehir today