Since 1970, the Tell Sheikh Hamad was excavated by German archaeologists from the Free University of Berlin. They showed an occupation of the Middle Bronze Age and Late Bronze Age. Nearby, they found channels and an irrigation system that allowed a thriving regional agriculture.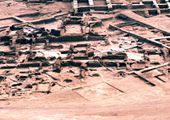 Ausgrabung in Tall Schech Hamad
Ausgrabung in Tall Schech Hamad, archäologische Grundlagenforschung im Flussabschnitt des Unteren Habur (Syrien)
Internet site of Tall Schech Hamad
During the 14th century BCE, the Assyrians have ensured the administration of the territories of the Khabur from this place. That's what show some 550 tablets found there. Among these is the correspondence of the governor of Dur-Katlimmu: Assur-idin. What surprised archaeologists is the use of the title "King of Hanigalbat" by this person who represented the local Assyrian authority: he called himself "sukkallu Rabu" of Hanigalbat.
Dur Katlimmu is mentioned in the neo assyrians texts of Ashurnasirpal II during a journey that led him to go down the Habur River until the Euphrates.
à 12h30L'établissement assyrien de Dur Katlimmu (Syrie). Nouveaux résultats et interprétation | Musée du Louvre | Paris
(Antiquités orientales) La politique assyrienne d'expansion vers l'ouest entre 1300 et 600 av. J.-C., tout comme le premier empire de grande ampleur de l'Antiquité qui en a résulté à la fin du...
http://www.louvre.fr/12h30l%E2%80%99etablissement-assyrien-de-dur-katlimmu-syrie-nouveaux-resultats-et-interpretation
Conférence - Le Louvre - Paris