The Tell Tayinat is an archaeological site southeast of Antakya, 800 m of Tell Atchana, known as the ancient city of Alalakh or Alalah. This tell would be the Kinalua town of Late Bronze age, over which reigned a Hittite dynasty until the eighth century BCE. The city was the capital of a kingdom called "Patina" or "Unqi". There, some magnificent sculptures were found: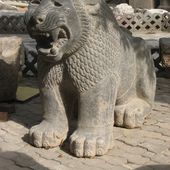 This statue is in the courtyard of the Antakya museum. He was found summer 2011 in a palace of the 9th-8th centuries BC at a nearby site that we visited.
Hittite lion of Tell Taynat
The layers of the beginning of the Bronze Age are being excavated. The site could be Alalahu of texts of Ebla. The final syllable "hu" would be the only difference compared to that in "Akh", showing Akkadians occupants of the neighboring tell.
Hittite Monuments - Tell Tayinat
Hittite Monuments - Tell Tayinat
Tell Taynat monuments
Researchers observe abandonment between 2000 and 1200 BC. This hiatus corresponds to the maximum occupancy period of the nearby site of Tell Atchana. For this reason, the continuity of the city of Alalah between these two sites is more than plausible: Kinalua can be interpreted as a shortcut of "Kin-Alaluha". However, it is likely that the reoccupation of the site, and the abandonment of the tell Atchana either due to the "people of the sea". A parallel can be made with Gözlü Kule, the ancient city of Tarsus, who saw a Syrian cultural predominance between 2100 and 1200 BC, whereas before and after, found objects are similar to those of the western Anatolia.
On the Tell Ta'yinat, tablets were found written in Akkadian, Aramaic and Luwian.