During the beginning of second millennium BC, Ilan-Sura is best known to us by his king Haya-Sumu, who married two daughters of King Zimri-Lim of Mari. They left letters in archives of Tell Hariri.
The capitals of the Idamaras - Ilan-Sura, Aslakka, Abilum, Zalluhan, Kahat - are not now precisely located by archeology. This is probably due to their short life : there tells shall not to be very important and therefore not first excavated.
However, ancient texts show a close proximity between Ilan-Sura and two other cities that we find on one hand during the splendor of Mari, and secondly, 1000 years later, during the New Assyrian Empire. These are the cities of Suhpad, or Shahuppa, and Tilla or Tille, Tilum, Tiluli, which were part of the Kadmuhu kingdom during the 1st millennium BC. They are describted in two articles of this same blog.
It is likely that Ilan-Sura, which is no longer mentioned in the tablets of the first millennium BC, was in this geographical area.
Other assumptions of location of Ilan-Sura were proposed base on a path described by Yanuh-Samar of Sehna, during the beginning of the second millennium BC: Sehna, Hazzikkannum, Kahat, Pardu, doors of Tadum, country of Ilan-Sura. For this, the authors considered that it was the shortest way to get from the first town, Sehna, to the last one, Ilan-Sura. But there is nothing to confirm this. On the contrary, other ancient routes, including that of Urbana Goetze, were rather loops with returning to their starting point.
Some researchers consider that the city of Hasankeyf - which is concerned by a dam under construction called "Illusu" - was the old Ilan-Sura.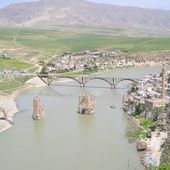 A Turkish court has ordered a halt to the construction of a controversial dam that threatened to destroy one of Turkey's ancient cultural sites. On January 7, the Turkish Council of State ruled that
http://www.theheritagist.com/2013/01/turkish-court-comes-to-rescue-hasankeyf.html
Illusu dam under construction
Hazzikkânum, Hasiluha during the Neo-Assyrian period, is more likely to be the former name of Hasankeyf.
Ilusu is the name of a village in this region, in south-eastern Turkey, along the Tigris. Phonetic closeness with "Ilan-suran" is evident. The ancient city could be a tell to this place.


My notes of veracity :
Ilan-Sura was Illusu along the Tigris: 2.5 / 5