The originality of this city of the Levant, with the current name of Sour, which means "rock" in Phoenician, lies on the fact that it was a small island not far from the coast. Opposite, on the mainland, Uzzu, was also, much of the time, associated with the city of Tyre.
With the Akkadian word "Surru", the city is mentioned in nine Amarna tablets. Its insular form will appear in the EA154 and EA155 letters: its mayor at the time, "Abi-Milku" under siege by a man from Sidon, which did not allow the locals to go ashore to look Wood and Water, asked the pharaoh to be refueled by boat. The strong man of Tyre has the title of "Commissioner" or "rabisu". In EA89, the mayor of Byblos described the residence of the mayor of Tyre as being as great and rich as that of Ugarit !
In EA148, "Abi-Milku" indicates that his city is part of the land of Canaan.
Tyre or Tyrus, is the Greek name of this town, especially known at the time of Alexander the Great. After a long and difficult siege, he conquered the city, and then reached Egypt. To win, he built a ramp between the shore and the island :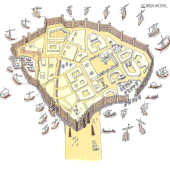 Le siège de Tyr par Alexandre le Grand
Les Phéniciens - Le siège de Tyr par Alexandre le Grand Après la défaite des Perses à Issos en 333 av.J.C. devant les Macédoniens, les cités Phéniciennes se sont également soumises à l'au...
Tyrus and Alexander the Great
Ernest Renan carried out an archaeological study mission on the site of Tyre in 1864. There, he have done an inventory of archaeological remains. The city take its present appearance, with the release of the Hippodrome, the Roman road and Roman-Byzantine necropolis, from 1947, under the leadership of the Emir Maurice Chehab.
L'histoire de Tyr au témoignage de l'archéologie
Sous les auspices de la Direction générale des Antiquités du Liban ( DGAL), en partenariat scientifique avec l'Ifpo et l'UNESCO (bureau de Beyrouth), un colloque intitulé L'histoire de Tyr au ...
Archaeological remains of Tyrus
The visible structures do not suggest the rich history of the Phoenician island. Herodotus visited the city around 450 BC. He gave an estimate of its founding date: the mid third millennium BC. A survey by Patricia Bikai in the center of Tyre, has delivered the existence of 27 levels, confirming the date of the first historian. The narrowness of the island and renewal of constructions explains the absence of older buildings.
Egypte,Asie Mineure,Grèce,Perse,Mésopotamie
Antikforever.com c'est 4000 ans d'histoire : l'Egypte pharaonique, l'Asie Mineure, la Grèce, la Perse, la Mésopotamie, la Palestine et la Syrie et un dictionnaire sur l'antiquité de près de 400...
http://antikforever.com/Syrie-Palestine/Phenicien%20Cananeen/tyr.htm
Tyrus history on Antikforever