During the 9th century BC, Ashurnasirpal II reported that after crossing the Tigris and penetrated the country of Kadmuhu he reached several towns. He have mentionned successively: Kibaku, where he received a tribute, then Matiatu, where he made many prisoners, Zazabuha, where he received the tribute of the country of Habhu, Irsia, he burned and where he received the tribute of the city of Sura and Mount Kashiari where he spent the night, Madaranzu, where he made a killing, Mount Kashiari again for 6 days, where he pierced the mountain for his tanks and his troops, Sigisa, located in the country of Nairi, Madara and Tushan.
The study below sets a number of these cities: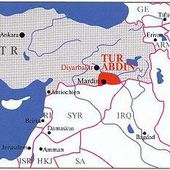 The Assyrian Identity of Turabdin
News and Analysis of Assyrian and Assyrian-related Issues Worldwide
Kashiari montain and Turabdin
Matiatu is the present city of Midyat.
Midyat, the Antique City of the Syriac or Aramean People. The Midyat City website contains informative articles, a multilingual forum, hundreds of photos, songs and lyrics as well as a guestbook and
Midyat, Syriac and Aramean People
Zazabuha is the village of Zaz, became Izbirak.
Izbirak/Zaz, near Midyat, Mardin, Turkey.
To find Izbirak/Zaz, access Google Maps and in the search engine type "Midyat, Turkey". From the centre of Midyat, follow the road north for about 6 kms to the junction for Dargecit on the right. T...
https://insearchofunusualdestinations.wordpress.com/2013/11/10/izbirakzaz-near-midyat-mardin-turkey/
Zaz near Midyat and Mardin
Sura is the former Sawro, the present town of Savur.
Madaranzu Matzaron seems to be where a fort was certified during the Byzantine Empire. Matzaron became the city of Maserte, current Ömerli. Perhaps this city is that of Mazuradum of the archives of Mari (Z, R & D / T should be pronounced in the same time). The letter II 62 of Haya-Sumu, king of Ilan-Sura, reminiscent of military action on the cities of Suhpad and Mazuradum.
Madara is the town of Marde, the Roman Margdis, the present city of Mardin.
Mardin / Turquie | HD Stock Video 469-333-260 | Framepool Stock Footage
Cette plan de haute qualité Rights Managed HD sur Mardin, Mésopotamie, Mur de Château Fort, Ruine d'un château fort, Minaret, Islam, Édifice historique, Centre historique, Colline, Tour (Edifi...
http://footage.framepool.com/fr/shot/469333260-mardin-mesopotamie-mur-de-chateau-fort-ruine-d'un-chateau-fort
Mardin and his castle
Finally Tushan is the site of Tepe Ziyaret.
This path clearly locate the Mount Kashiari, which appears as a natural border between Kadmuhu, to its east, Nirdun in its northwest and the country of Nairi towards the northeast.


My notes of veracity :
During the Iron Age, Matiatu, current Midyat, was a city of Kadmuhu and Kashiari Mountains: 4/5
During the Iron Age, Zazabuha, the ancient village of Zaz became Izbirak, was a city of Kadmuhu and Kashiari Mountains: 4/5
During the Iron Age, Madaranzu or Mazuradum, former Fort Matzaron, was a city of Kadmuhu and Kashiari Mountains: 4/5
During the Bronze Age, Madaranzu or Mazuradum of the country of Ilan-Sura was the city of Maserte, the present city of Ömerli : 3/5